Visitors to Schlitz Audubon's Mezzanine Gallery will encounter depth and mystery in the atmospheric artwork of landscape painter Mary Mendla, whose art show runs through August 27. A lifetime of exploring the natural world has imbued Mary's work with a sublime essence of nature that is moving to the senses, spirit, and imagination.  
The artwork is inspired in part by Mary's childhood exploration of the natural landscape, often close to Schlitz Audubon. She developed a passion for wild places while playing in the ravines along the Lake Michigan shoreline, where she encountered the wonders of myriad wildlife, including close encounters with deer. She began her artistic journey while in high school, later graduating from UW-Wisconsin with a Bachelor of Fine Arts degree. Influenced by English artist J.M.W. Turner, Georgia O'Keefe, Alfred Steiglitz' Equivalents Series, and the Impressionists, her early paintings featured the sky and the immense beauty of shifting light and color. Over the years, she developed a signature style and subject matter, and has been creating nature inspired art ever since. Mary currently works from her studio and gallery located in Thiensville, WI, where she also finds joy in conducting workshops.  
These thought-provoking abstract landscapes feature mixed media focusing on the land, shorelines, and waterways in the Great Lakes region. Mary uses cold wax products as a medium, along with oils, acrylics, pastels, earth and mineral pigments, and ink. She doesn't often use brushes, relying on non-traditional tools such as trowels, palette knives, squeegees, and more. These techniques and materials create wonderful effects and possibilities for deeper expression. 
Mary's method is intuitive, and she paints her observations of the world with what she calls a "quiet eye" to capture the subtle shifts in color, texture, and shape, while developing a deep sensitivity in the viewer. The atmospheric quality of her paintings originates from Mary's way of seeing the world, and her work encourages people to look beyond the surface toward the deeper realms of heart and spirit. "I feel an opening of my soul when I am in solitude in a natural area," Mary said. Using her unique style, she is able to successfully express this profound effect that nature has had on her.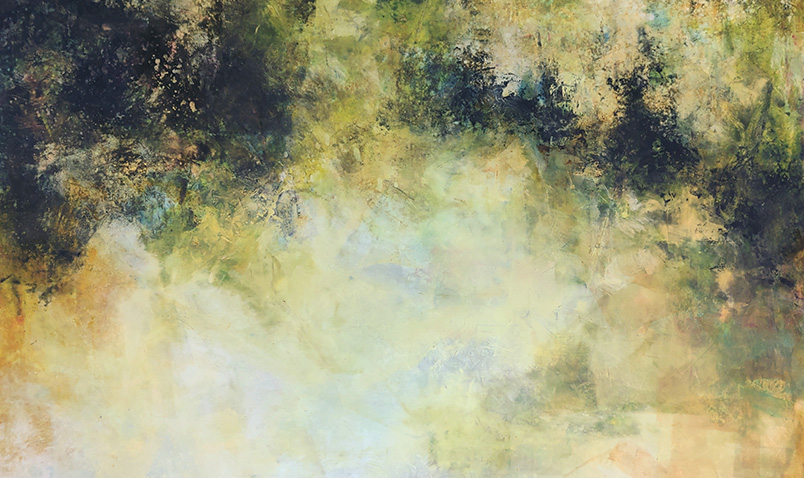 To create art that reveals these complex relationships, she paints spontaneously, without planning ahead. Mary begins with an idea of what she'd like to express emotionally or spiritually, which leads her to a color palette. After applying layers of contrasting colors and cold wax, she gets an image she can work with. "Eventually, a composition begins to form, and the painting starts to show me where it needs to go," Mary said. As the painting progresses, she will decide if it meets her original intention.  
Mary also uses photography as a medium, referring to photos abstractly for inspiration, and will sometimes incorporate digitally manipulated images into collage. "I find that this juxtaposition of bits of realistic imagery veiled with abstraction creates a sense of mystery which pulls out a more unconscious response from the viewer, somewhat like a memory or dream," Mary said.  
Viewers will be moved by the depth of Mary's work, and seeing these pieces is a must for people who love nature's essential quality and appreciate the technical prowess utilized to represent it. Visit the Art Gallery on the second floor of our Visitor Center now through August 27 to take in this marvelous display of abstraction, light, and color.  
Feature painting by Mary Mendla: Calm Waters